Mobile Fall Arrest - Sky Hook X1250
Mobile fall arrest system, highly portable and quick to setup.
Ask about our
Sky Hook Fall Arrest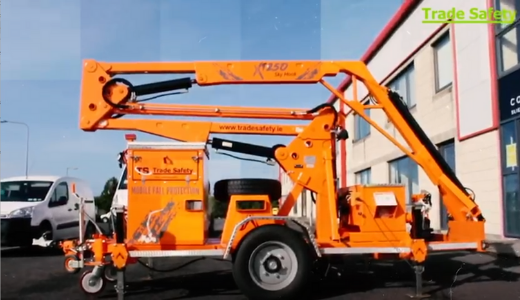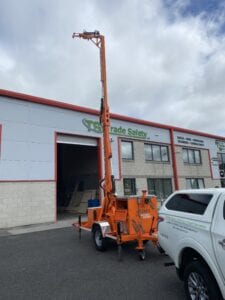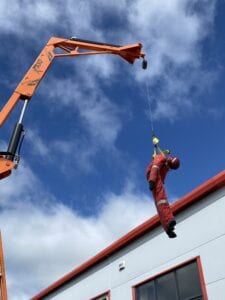 The X1250 XSERIES Skyhook is a mobile fall arrest system that provides overhead anchor points anywhere, any time.  The X1250 offers three overhead anchor points and has a mast that provides one worker overhead tie-off up to 10.4m in height.  Both support a maximum anchor capacity of 140kg.
The X1250 features an electric-driven hydraulic lift system operated by remote control with E-Stop. It is road-towable and can be towed by nearly any vehicle on the market, and also feature built-in fork pockets for easy transport indoors.
Suitable for roof work, tank access, erection of scaffolding and steel structures, trailer on/off loading, Industrial servicing & cleaning.
Ideal for use in industries such as Construction, Transport, Utilities, Pharmaceutical, Petrochem, Oil & Gas, Aviation.
Weight:  2676kg
Max. Working Height:  10.4m
Min. Working Height:  0.6m
Max. Folded Height:  2.6m
Frame Width:  1.8m
Overall Length: 4.7m
Max. Arm Reach Out:  3m
Max. Anchor Point Capacity:  141kg
Max. Allowable Users:  3
Controls:  Remote   (4.5m Cord length)
Power Source:  12 Volt Battery (210 Amp Hour Rating) w/30A Fuse & Battery Gauge
Charging System:  110 Volt Quick Smart Charger with Cord
Outrigger System:  4 Manually Adjustable Jacks
Compliant to EN  795- 2012 Class B 
Easy to transport, versatile quick to set up and easy to operate.
Ideal for both Working At Heights  and Confined Space  work /rescue.